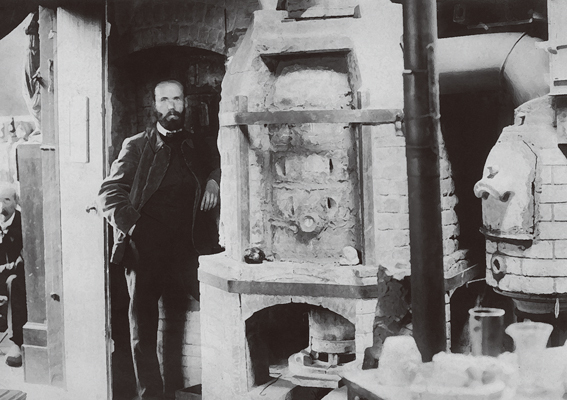 Francois-Emile Decorchemont
French, 1880-1997
Francois Decorchemont, originally an accomplished painter and potter of recognized ability, turned to the making of glass in 1904. Pate de verre was the medium in which he excelled and for which he is best known.
After studying decorative art in Paris, Francois Decorchemont returned to his native Conches in 1910 to develop new techniques in stained glass, particularly in the use of crystal to give multi-colored and faceted panes.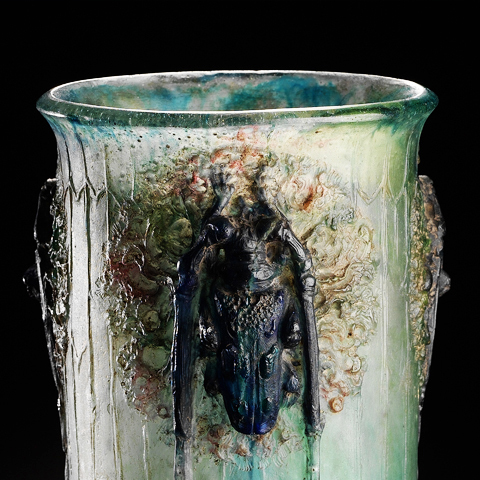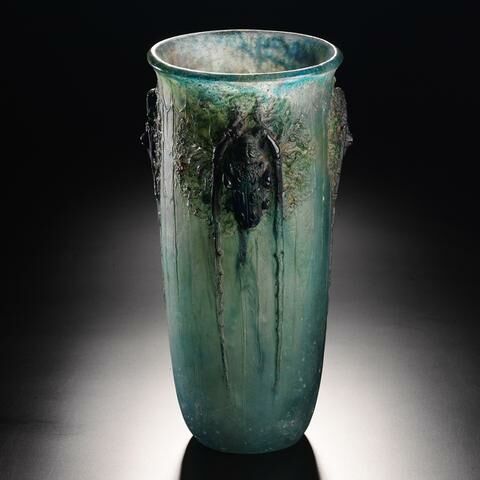 After 1909, while continuing to produce fine glass paste pieces, Francois Decorchemont began to experiment with a new casting technique. Francois Decorchemont, Emile's son and also an artist, helped out in his father's studio, in particular helping him to research the possibilities of creating jeweled adornments in pates d'email (enamel pastes) for Gerome's polychrome sculptural creations. Francois Decorchemont, a potter and painter at the outset of his career, became fascinated with the idea of developing and utilizing a thin translucent glass material in his work. It was in essence the revival and an adaptation of a long forgotten Egyptian glass-making process using colored crystal powdered glass, metallic oxides and an adhesive paste.
This "new" material, known as pate de verre was developed around the turn of the century, principally at the Sevres porcelain factory, by a number of artists working there, notably Henri Cros and Albert Dammouse.
The end of the 19th century was an illuminated period in the history of art. Impressionist painting appeared and created an interest in glass as material. Traditional sculpting materials such as bronze and marble made way for glass with its possibilities of light and color. Henry Cros and Francois Decorchemont became the leaders of French Pate-de-verre and facilitated the proliferation of this colorful glass.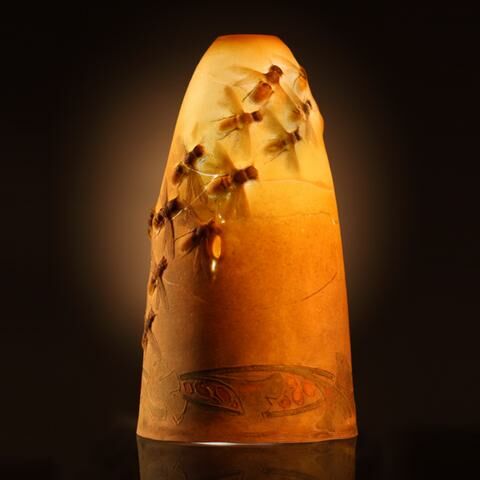 His first major work, in 1934, was inn the Eglise Sainte-Odile near Porte Champerret in Paris, some 300 square meters of brilliant colors.
After the war, he devoted his work to churches in the Eure, including of course Beuzeville where, thanks to the generosity of the local council, the church is lit at night so that his work can be admired from outside.
During the first half of the 20th century a number of French artists became famous for their work in pate de verre, and Francois Decorchemont among them.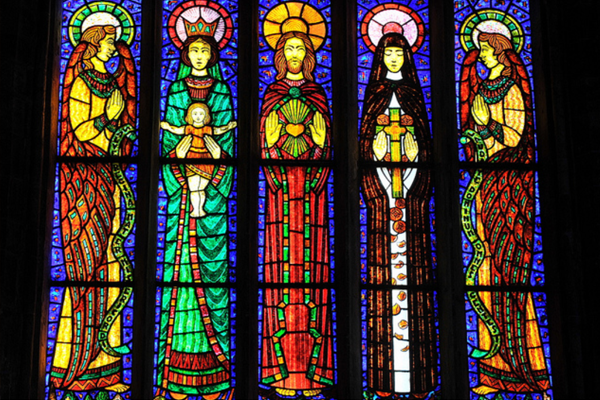 March 2014, 20th Century's Greatest Art Dealer
Felix Marcilhac's Collection Privee at Sotheby's – Chang Yi Entrusts Antoine Leperlier in the Bidding of a Francois Decorchemon's Original. It has been reported that Felix Marcilhac's Collection Privee auction at Sotheby's brought in 33,125 Euros (28,000 RMB), three times the estimated price.
Marcilhac is considered the greatest art deco dealer of the 20th century with clients including Karl Lagerfeld, Yves Saint Laurent, Pierre Berge, Andy Warhol and Alain Delon. His collection contained undisputed masterpieces.