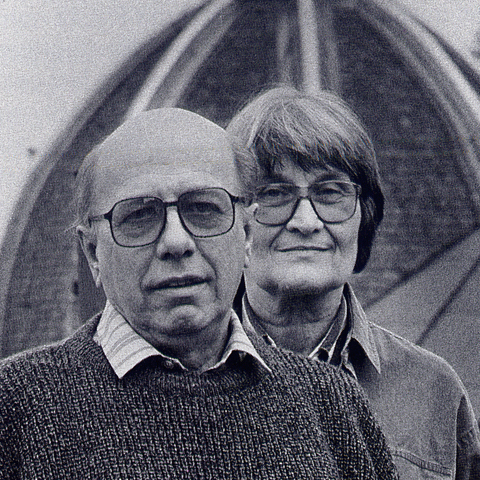 Stanislav Libensky 1921-2002 Czech Republic
Jaroslava Brychtova 1924 Czech Republic
Stanislav Libensky and Jaroslava Brychtova are the first artists to explore the relationships between Liuli and light. And with their discoveries, the couple created possibilities. Departing the change in form, they allowed people to walk directly into the clear forms to explore alternate planes. The pyramidal shape's simple three lines appear multiplied when viewed through different angles. Three Vs, three inverted Vs, sometimes they all disappeared but one: the original V on the original plane. External changes created internal variance and in turn, created thought-provoking dialogue.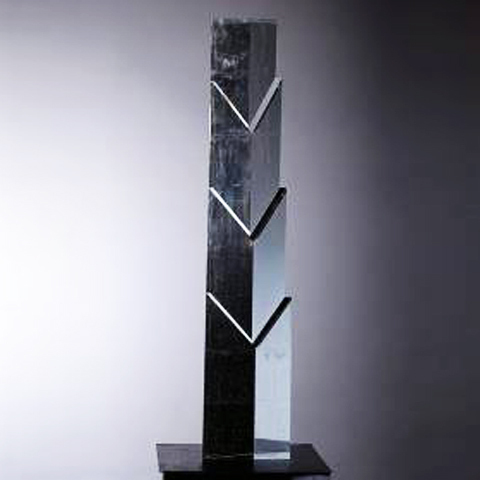 Column 3V
The Couple from Prague: 40 Years of Liuli Art from Stanislav Libensky and Jaroslava Brychtova
In the past, the city of Prague invoked images of Kafka and Dvorak. Descending into the swirling snow by airplane, sounds of Smetana's My Country rang through my ears.
When I first visited Prague four years ago, the taxi driver showed me great courtesy. It impressed me very much. Today, Prague is quite different. The streets teem with tourists and crossing the Charles Bridge is virtually impossible.
"We don't go into Prague often, it is too much to handle", Jaroslava Brychtova says.
Married in 1963, Stanislav Libensky and Jaroslava Brychtova are also good partners for forty years. They stand at the pinnacle of contemporary Czech Liuli and educators of Liuli art.
In April of 1994, Corning Museum of Glass paid tribute to the pair by hosting the exhibition "Stanislav Libensky and Jaroslava Brychtova: a 40-Year Collaboration in Glass."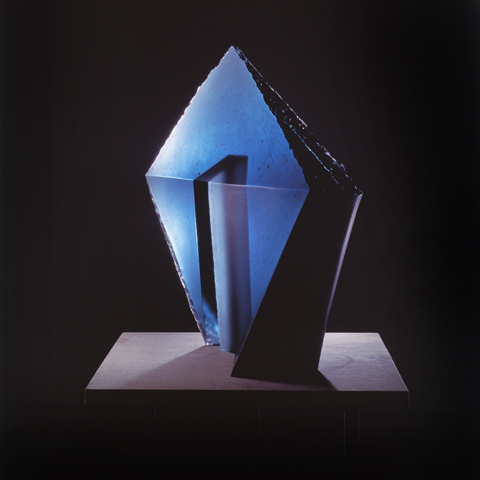 "One excellent artist and the other outstanding scientist both push Liuli craft and art upon the top level through their hard work, including sculpture and architecture movement. Being a Liuli art irradiator, they show up their wisdom, passion, and striving."
—Susanne. K. Frantz, CAO of Corning Glass Museum
Libensky, this plump old man, looking like Mick Romney, is always smiling at people with blush cheeks.
Libensky and Brychtova were invited to attend the 1995 Taiwan International Glass Art Exhibition. Upon leaving the airport, Libensky and Brychtova went directly to the exhibition, shed their shoes, and clad only in white socks went to aid in the setup and installation. Brychtova with her towering presence, long silver hair, and casual demeanor showed us to understand how passionate the artist is.
Liuligongfang invited Stanislav Libensky and Jaroslava Brychtova to the exhibition
I meet them every two year. Jaroslava seems much younger than her 73 years. With a straight back and commanding voice, her eyes sparkle with life.
"I would like to talk to you…"
Exuding warmth and sincerity, we stopped and shared a conversation. She talks to me like a peer, like us on the same level. She told me that I had touched into the deep meaning and soul of glass. I was only two when she and Libensky began their collaboration in glass art.
In front of this lady, who has spent her entire life working with glass, I reminded myself to be humbled.
Her compliment me represents her open-minded attitude. I think.
As a guest in their home, sipping on their sweet wine mulled from wild flowers, I felt deliciously intoxicated. The small space I sat in was spotted with aboriginal art collected from their travels around the world. Little figures of people and horses, it seems like standing around in preparation for flight.
The couple prepared snacks to serve their guests on a silver platter as big as a table. Those snacks are piled on top and are enough to treat more than forty to fifty people. It is their humanistic generosity and sincerity, so that it translates into their art.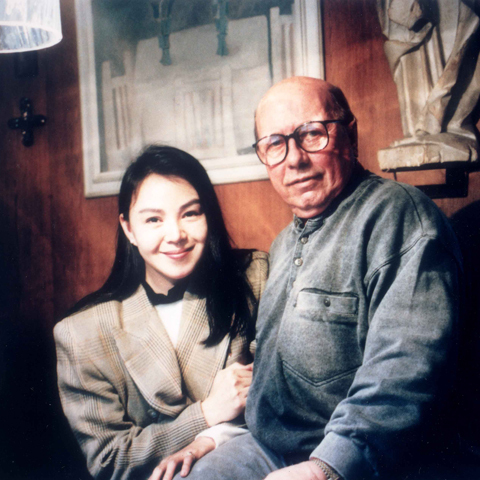 The couple's artistic intentions are shown apparently through their art. Their work transcends the clay form to create a brand new world in its place.
Playing with scale by going big, their new piece entitled "Green Eye of the Pyramid" stands 1.85m tall and 2.85m wide.
This Liuli creation is a dramatic departure from the traditional Liuli accessory, straying into the territory of sculptural art.
Libensky muses, "By introducing Liuli to architecture, we can create a new role through the illumination of light."
The glass masters' work can be seen throughout Prague. In the windows of an old cathedral, the grand hall of a hotel, even the facade of Prague's National Theater has been touched by the couple.
Libensky and Jaroslava's work has evolved from purely modern sculptural art from the traditional to creating a discourse in the properties of modern Liuli.
"Brancusi was an artist who captured our hearts…"
Running through the mud, two dogs frolic past the couple as they walk toward their workshop.
Libensky was appointed professor at the Prague Academy's glass department in 1963 and his 25 year stint greatly shaped the core of contemporary Czech Liuli art. There is not a single professional in the field who has not passed under the tutelage of the couple.
Their stylistic influence runs prevalently.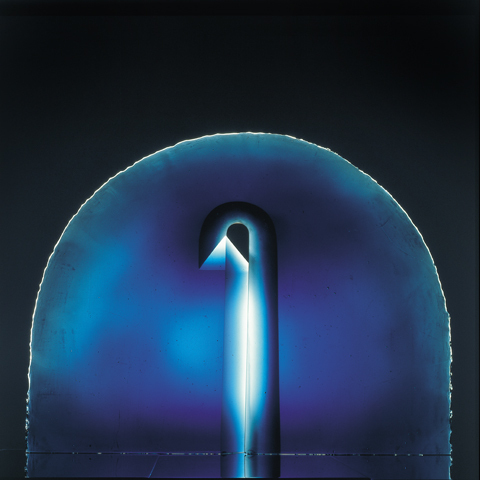 I felt a heavy pressure after visiting ten plus artist workshops. The cultural integrity of the country as a whole was simply staggering.
Music, philosophy, and plastic arts shaped by tradition permeate every aspect of everyday life. Pass by any person and you might hear the hum of classic musical under their breath; every verse from Smetana is as familiar as the back of their hands.
Aside from Slovakia, there are three professional Liuli schools in the Czech Republic. The expanse of these schools goes without saying but it was the gentle dips in the massive stone steps worn down by half a century of footsteps that left the strongest impression.
The streets of modern day Prague teem with tourism. It cost me 50 koruna to travel from my hotel to the city center by taxi. Getting into another taxi on the way back, I was told it would be 200 koruna. When I gave the driver 100 koruna upon arriving at the hotel, the change I got back was in the form of a cursory "good-bye." I stepped out of the car and on to a cobblestone road unchanged since the 9th century. I walked along and thought of Barbra Streisand's Yentl. This was the street of her heart's vision because there is no other place in the world with such a complete sense of history.
Prague, Prague – where is our Prague of China?
I miss the old taxi driver at the airport who took my bags with such courtesy. He spoke it in elegant English, "We are deeply proud of our history."
Compared to us, is it easier for Stanislav Libensky and Jaroslava Brychtova to take their rightful place in Czech history?
I must ask them when I return to Prague next time.